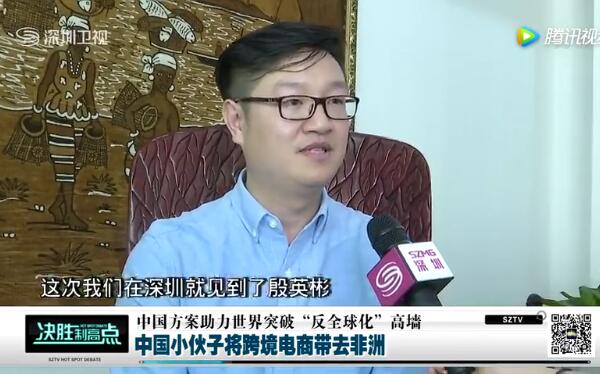 After reporting Amanbo in the documentary "Win-win Maritime Silk Road" and the show "At Noon 12:30 ", Shenzhen TV once again reported the story about how Amanbo brings cross-border e-commerce to Africa on March 6.

In recent years, cross-border e-commerce has become a global hot. With the China-Africa cooperation deepens and the "One Belt One Road" national strategy puts forward, China-Africa cross-border e-commerce must become the hottest focus. Since launched in September 2015, Amanbo has been reported by CCTV, Xinhua News Agency, Shenzhen TV and other media. And as a representative of Shenzhen company does business with Africa, Amanbo is high attention by the Shenzhen community and the media.

Amanbo uses innovative OSO integrated marketing mode to help Chinese manufacturers and traders to open the African population of 1.2 billion blue ocean market, while brings the African characteristic handicrafts, food and other goods to China. Today, Amanbo has established overseas operation centers, showrooms and overseas warehouses in Kenya, Cameroon, Togo, Egypt, Ghana, Sierra Leone, Côte d'Ivoire, Uganda, Tanzania and other countries, covering more than 30 countries and regions in Africa. Amanbo since launched in 2015, the number of registered users has more than 90,000 and more than 200 daily average growth rate; the transaction volume is also increasing month by month, the current monthly trading volume has more than 500 million dollars. Today, Amanbo has more than 200 employees, become the leader in the field of China-Africa e-commerce, and as the key project of Ministry of Industry and Information Technology cooperate with Africa. With the orderly development of the work of the platform, Amanbo is working with China-Africa import and export traders, service providers to write a new chapter in China-Africa cooperation!