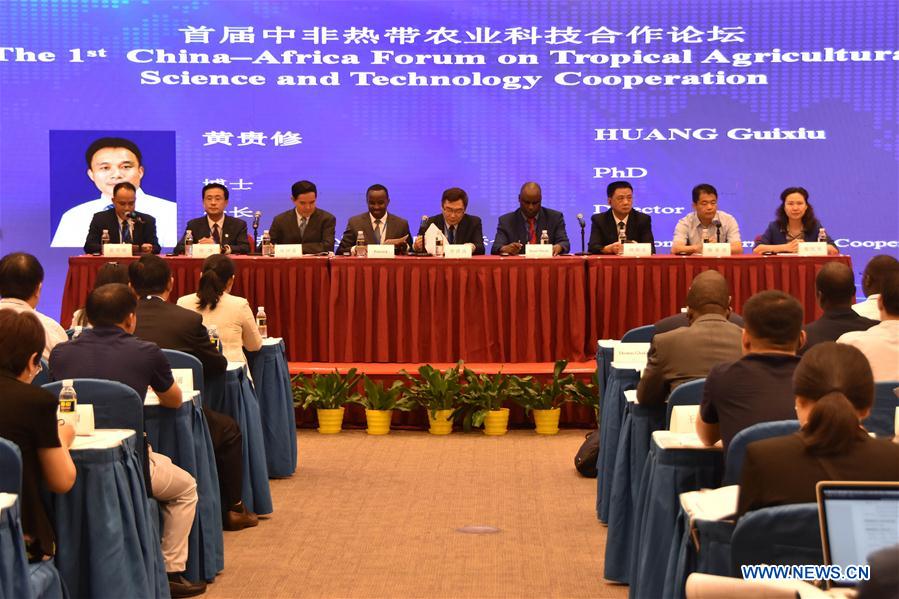 The first China-Africa Forum on Tropical Agricultural Science and Technology Cooperation is held in Boao, south China's Hainan Province, Aug. 30, 2018. (Xinhua/Liu Deng)

HAIKOU, Aug. 30 (Xinhua) -- A forum on tropical agriculture cooperation between China and African countries opened Thursday in Bo'ao, south China's Hainan Province.

During the two-day meeting, more than 100 government officials and agricultural experts from China and African countries will discuss how to enhance cooperation in areas such as technological innovation and talent training, and establish a sustainable platform for exchanges.

China and African countries are complementary in agricultural research, investment and trade, with great potential for cooperation, Li Hongtao, deputy director of Foreign Economic Cooperation Center under China's Ministry of Agriculture and Rural Affairs, said at the opening ceremony.

The forum promotes exchanges in tropical agriculture and contributes to South-South cooperation and the cooperative relationship between China and African countries, said Patrick Karangwa, director general of Rwanda Agriculture and Animal Resources Development Board (RAB).

The Chinese Academy of Tropical Agricultural Sciences signed cooperation agreements with RAB, Zambia Development Agency, and Zambia Agriculture Research Institute at the forum to deepen collaboration in promoting the quality of agricultural products and developing training programs.

According to the academy, it has sent 32 Chinese agricultural experts to Africa for technical assistance and has trained hundreds of Africans since 2016.
Source: Xinhua.net