Overview
USB International Travel Adapter With Type C to USB 3.0 Adapter/Universal Travel Adapter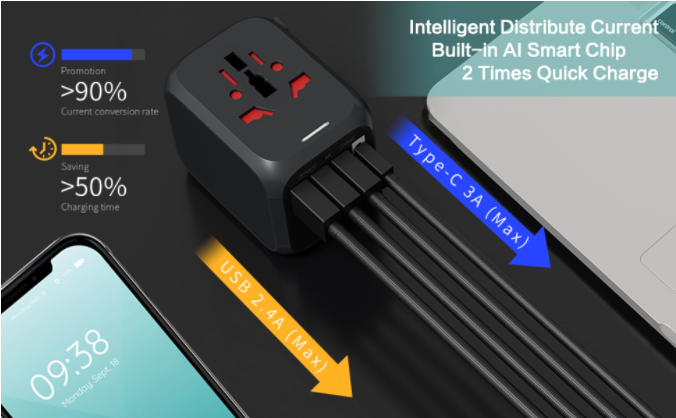 All in One Adapter for Worldwide Countries
Travel Adapter works in Over 160 Countries Worldwide - EU / US / UK / AU Plugs .The travel adapter covers over the United States, Britain, Europe, Australia, China, Japan, Korea, India, Italy, Brazil, Asia, the Middle East,etc.
The travel adapter is small and portable, the International Travel Power Adapter is your best partner whenever and wherever you need it.
Features
AC Power rating: 6A max. 100-240 Vac ( 660w max. at 110V. 1440W max. At 240V )
Type C/USB Output: 5V 3.4(Total); Type C Output: 5V 3.4A; USB A Each output: 5v 2.4A ( max )
Only one plug-type can be used at one time, other plug-pins are locked automatically.
Warm Tips
To avoid possible damage to your equipment or other safety hazards, make sure that the electrical outlet you are using has the proper voltage to operate the equipment before using this adapter.
Guaranteed
We have quality after-sales service team, if you have any questions, you can contact us at any time, friendly support team provide you with efficient solutions. I hope our travel adapter will make you feel happy on your travels.