Amanbo has always been at the forefront of foreign trade innovation. Aiming at the pain points of traditional trade development and the development status of emerging markets in Africa, combined with efficient digital means, overseas credit system and localized operation strategy, Amanbo has laid out and improved the entire business ecology in advance, and innovatively solved the problem of domestic enterprises going overseas to Africa. It provides a complete solution for enterprises and local industries to go overseas to Africa.
Background
At present, China's foreign trade situation is still complicated and severe. Supporting the healthy and sustainable innovation and development of new business forms and models such as cross-border e-commerce is of great significance to promoting the high-quality development of foreign trade and building a new development pattern for services.
The cross-border e-commerce comprehensive pilot zone can continuously improve the industrial chain and ecosystem that adapt to the development of the industry. Each comprehensive pilot zone needs to give full play to the decisive role of the market in resource allocation, better play the role of the government, and actively cultivate cross-border e-commerce platforms. , sellers, overseas warehouses and supporting services and other well-known enterprises.
Basic situation
Shenzhen Right Net Tech Co., Ltd. is an innovative Internet trading company. Its core team has been engaged in China-Africa trade for 20 years, and has carried out research, construction and promotion of China-Africa cross-border e-commerce platforms for more than 10 years.
The company is mainly committed to the operation of China-Africa brands and the development and promotion of Amanbo. At present, the company's business has covered Africa, Central Asia, West Asia and Southeast Asia and other regions, and has initially formed a cross-border e-commerce and international trade digital service system for emerging market countries along the "Belt and Road".
Amanbo is a professional cross-border e-commerce platform for emerging market countries. It is an innovative digital platform that provides customers with digital display transactions and overseas localization services.
Amanbo is building around the three core competitiveness of "channel, brand and data", and comprehensively builds a digital marketing platform for African import and export, covering logistics, financial payment, human resources services, investment and cultural service platforms, etc. A full range of Internet service ecosystems.
Business Features
1. Build full-channel marketing system
Amanbo builds an online, social and offline omni-channel marketing system OSO (Online + Social + Offline), which combines marketing, trade matching, cross-border e-commerce transactions with local distribution and retailing. While building the Amanbo online platform , build offline marketing networks such as overseas warehouses, service centers, experience stores, franchise stores, etc., to achieve digital operation and management.
Amanbo pays attention to the construction of local social marketing system. Combining with the demographic characteristics of young people under the age of 25 accounting for more than 65% in Africa, Amanbo has designed social marketing software such as AMP (Amanbo Marketing Partner) to build an omni-channel, three-dimensional coverage of online and offline and social networking. innovative e-commerce marketing system.
2. Provide three-dimensional, one-stop service
Amanbo platform provides one-stop B2B2C full-chain digital solutions, integrating international trade, cross-border e-commerce, warehousing and logistics, capital settlement, enterprise management, government supervision and other information, through the platform and overseas service providers, to "platform + service + finance" " innovative way to provide users with two-way resource integration services, realize resource sharing, and provide a complete set of solutions for enterprises to go overseas safely, efficiently and at low cost; at the same time, it connects the commercial and information flows between China and the countries along the "Belt and Road" to realize cloud data. Sharing, effectively solves many "pain points" that are difficult to implement and popularize e-commerce in emerging market countries, forming good social benefits and industry influence.
3. Create OSO full-channel sharing exhibition platform
Relying on high-quality traditional offline exhibitions and Amanbo's self-organized exhibition resources, Amanbo platform simultaneously conducts online exhibitions for offline exhibitions, and at the same time socializes the exhibition to create services such as OSO three-dimensional exhibitions, omni-channel promotion, omni-channel sales, and localized services. The three-dimensional sharing exhibition system with integrated functions helps domestic users to achieve the purpose of exporting goods and leaving the country for people to participate in the exhibition, and effectively solves the problems of restricted personnel flow and lack of credit between buyers and sellers under the influence of the epidemic.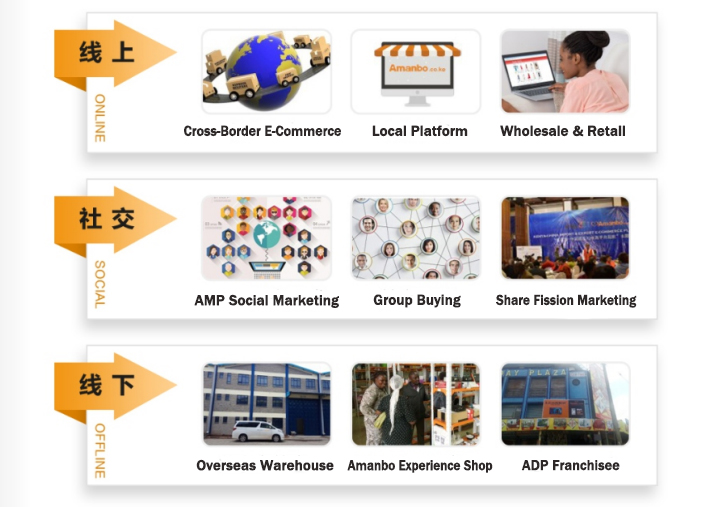 Effectiveness
At present, Amanbo has established a marketing network in more than 30 countries in Africa, accumulated about 200,000 local B-side buyer data, more than 100,000 domestic registered sellers on the online platform, served more than 500 small and medium-sized enterprises in Africa, and incubated more than 10 African local brands, with an average annual direct service or promotion of 3 billion yuan in trade with Africa.